"Iedereen kan een kunstenaar zijn", dat zegt Will Gompertz in zijn boek Denk als een kunstenaar. Misschien ken je hem al wel van Dat kan mijn kleine zusje ook (oorspronkelijke titel What are you looking at?), een bestseller waarin hij op een heel toegankelijke en grappige manier een stukje kunstgeschiedenis aan zijn lezers gaf. Wil je daar meer over weten, dan bekijk je best onderstaand filmpje eens: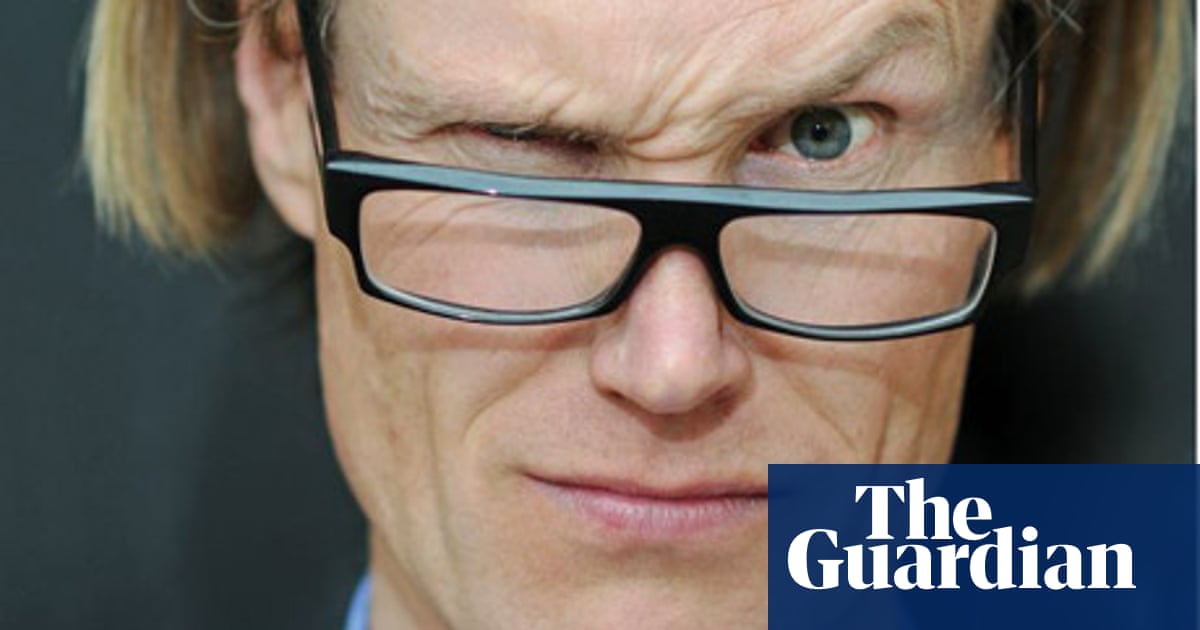 Will Gompertz is kuntredacteur bij de BBC en werkte zeven jaar lang bij Tate Gallery in Londen. Daarnaast schrijft hij artikels voor The Guardian en The Times. Hij wordt ook wel eens de eerste kunsthistorische stand-up comedian genoemd en blijkt een geweldige performer te zijn. In 2008 werd hij door Creativity Magazine New York verkozen tot een van de vijftig creatiefste mensen in de wereld.
In Denk als een kunstenaar: Iedereen kan creatief en inspirerend zijn schetst Gomperts in elf hoofdstukken wat een goede kunstenaar typeert. Ook dit doet hij met de nodige dosis humor. Hij grijpt hiervoor niet enkel terug naar oude klassiekers zoals Picasso, Rembrandt en Vermeer, maar laat je ook kennismaken met enkele hedendaagse kunstenaars zoals Tuymans en Abramovic. Laten we ieder hoofdstuk eens van wat dichterbij bekijken!
1. Een kunstenaar is ondernemend
"Geld verdienen is kunst en werken is ook kunst. Goede zaken doen is de allerbeste kunst." 

Andy Warholl
Blijkbaar heerst nog steeds het idee dat kunstenaars het niet erg vinden om hun kunst gratis met de wereld te delen. Dat ze dat met veel plezier uit liefde voor het vak doen. Akkoord, kunst ontstaat uit passie en is maatschappelijk zeer relevant. Maar daarnaast wil een kunstenaar ook gewoon kunnen overleven. Ze willen genoeg geld verdienen om hun ding te blijven doen. Om dat te kunnen doen, moet je kunst als een onderneming leren zien. De beste kunstenaars zijn dus goed in zakendoen. Gompertz merkt op dat "winst niet het intellectuele en emotionele motief is, maar wel een essentieel element. Met winst koop je vrijheid. Vrijheid geeft tijd. En tijd is voor een kunstenaar het waardevolste  goed."
2. Een kunstenaar faalt niet
Als 2020 ons één ding heeft geleerd, dan is het wel dat het leven niet altijd loopt zoals je hoopt. Het leven is onvoorspelbaar, en dat kan soms beangstigend zijn. Hier kunnen ook kunstenaars over meespreken. Artiesten durven risico's nemen, wat betekent dat er ook steeds een kans is om te mislukken. De kunst is om op zo'n moment niet op te geven, maar door te zetten. Een mislukking is niet het eindpunt, maar een fase in het creatieve proces.
3. Een kunstenaar is oprecht nieuwsgierig
Gompertz heeft het in dit hoofdstuk over Marina Abramovic en Ulay, over Gilbert en George, over Caravaggio… Hij verdeelt creativiteit onder in verschillende stappen: passie, interesse, nieuwsgierigheid, inspiratie, experimenten, innovatie en gerealiseerd proces. De eerste 6 stappen komen allemaal samen in het gerealiseerd proces: "Alles wat je heb geleerd, ontwikkeld en uitgeprobeerd, moet iets concreets en duurzaams worden." Hierbij is het belangrijk dat je gaat kijken hoe andere kunstenaars dat doen, dat je veel leest en onderzoekt. Want heb jij ooit een kunstenaar gezien die niet graag naar kunst kijkt? Dacht het niet!
4. Een kunstenaar jat
"Creativiteit is de presentatie van bestaande elementen, gefilterd door de percepties en gevoelens van een individu." Dit wist ook Picasso, die stelde dat goede schilders kopiëren, en grote schilders stelen. Of Einstein, die creativiteit definieerde als "weten hoe je je bronnen verbergt." Iets kopiëren, dat eist vaardigheid, maar niet veel fantasie, dat kunnen machines dus ook. Stelen is echter een ander paar mauwen: "Stelen betekent in bezit nemen, en bezit eist veel meer. Het gestolene wordt je verantwoordelijkheid en de toekomst ervan ligt in jouw handen. […] Creativiteit is bijzonder gewelddadig. Er bestaat geen schepping zonder vernietiging."
5. Een kunstenaar is sceptisch
De pijn die een zwangerschap en bevalling met zich meebrengen, is in één klap weer vergeten wanneer het kindje op je buik wordt gelegd. Hetzelfde geldt ook voor een kunstwerk. Het creatieve proces verloopt niet altijd even vlot en pijnloos. Een kunstwerk is vaker wel dan niet het resultaat van lang zwoegen en veel nadenken. Elke actie die een kunstenaar onderneemt is weldoordacht. Gompertz verwijst hier naar de Socratische methode. Zoals Socrates stelt dat "leven dat je niet onderzoekt, niet de moeite waard is", is een idee dat je niet onderzoekt ook niet het realiseren waard. Het is een kunst om je ideeën helder, beknopt en zuiver in een artistiek project te vangen. Maar wanneer het lukt, overstijg je jezelf. Op zo'n moment zijn alle worstelingen van de afgelopen uren, dagen, weken op slag vergeten.
6. Een kunstenaar denkt in grote gehelen en kleine details.
Besteed te veel tijd aan de kleine details, en je raakt verdwaald. Maar als je alleen aan het grote plaatje denkt, schep je niets en leg je ook geen enkel verband. Een enkele noot kan de sfeer van een muziekstuk volledig veranderen. Een vlekje kleur verandert de interpretatie van een volledig schilderij. In dit hoofdstuk ontdek je waarom Het meisje met de Parel van Vermeer helemaal niet zo onschuldig is als ze lijkt. Je leert alles over de "ingang" van een schilderij. En je komt te weten dat Luc Tuymans een volledig plan voor zijn volgende tentoonstelling maakt nog voor hij begint te schilderen.
7. Een kunstenaar heeft een gezichtspunt
 Inspiratie kan veel vermommingen hebben, en het is de taak van de kunstenaar om te reageren op prikkels en te vertrouwen op zijn gevoelens en intuïtie.

Rembrandt
"Verander van omgeving", is een veelvoorkomende tip bij een writers block (of bij een creative block in het algemeen). Een andere omgeving verandert meestal ook je gezichtspunt. Maar niet altijd. Peter Doig is een hedendaagse kunstenaar die al een flink stuk van de wereld heeft gezien. Hij werd geboren in Schotland, woonde een paar jaar op Trinidad, verhuisde naar Canada, studeerde in Londen, woonde in Montreal… Al deze verschillende omgevingen vormen de ideale inspiratiebron voor een hele reeks schilderijen, zou je denken. Maar zo werkte het niet voor Doig. Doig wist namelijk niet wat hij over deze landschappen moest zeggen. En zonder duidelijk gezichtspunt zouden de schilderijen nietszeggend zijn.
Het heeft een hele tijd geduurd voor Doig besefte wat het probleem was. Hij moest niet naar een andere omgeving reizen om inspiratie op te doen, maar een oude omgeving verlaten! Pas wanneer hij ergens wegging, kon hij een schilderij over die plek maken. Omdat hij zich op dat moment begaf op het vloeibare terrein tussen herinnering en werkelijkheid. Doig had zijn gezichtspunt ontdekt: "Ik kreeg een inspiratie die ik nooit voor mogelijk had gehouden."
8. Een kunstenaar is dapper
De moedigste daad is en blijft zelf denken. Hardop.

Coco Chanel
Denk even terug aan het meest gênante moment uit je leven dat je je kunt herinneren. Dit geeft je niet echt een leuk gevoel, wel? Als mensen zijn we geprogrammeerd om dit soort gevoelens te vermijden. Niemand wil in het openbaar afgaan. Niemand wil bekritiseerd worden omwille van wie hij is of wat hij denkt. Dit is een angst die kunstenaars keer op keer moeten overwinnen, een risico dat ze telkens opnieuw nemen. Wie iets maakt vanuit een bepaald gevoel, stelt zichzelf kwetsbaar op. Niets garandeert je dat je publiek respectvol en rechtvaardig zal reageren. Creatief zijn vraagt heel wat moed. 
9. Een kunstenaar neemt de tijd om na te denken
Iedere artiest is zowel een schepper als een criticus. Kijk maar naar Duchamp, die iedereen kent van zijn urinoir. Op technisch gebied miste de artiest het één en ander. Hij was niet de beste beeldhouwer of schilder. Wat Duchamp speciaal maakt, was dat hij had leren denken als een kunstenaar. Hij was ondernemend, nieuwsgierig en moedig. Maar bovenal was hij sceptisch voor zijn eigen werk. Hij geloofde dat iedereen een kunstenaar kon zijn. Volgens Gompertz was de truc dat hij meer nadacht dan hij deed, dat hij de tijd nam om na te denken.
10. Alle scholen kunstacademies
Elk kind is een kunstenaar. De moeilijkheid is om, terwijl je opgroeit, kunstenaar te blijven.

Picasso
Ik moet eerlijk toegeven dat ik zelf geen idee heb van hoe het er op en kunstacademie aan toegaat. Het is misschien wat goedkoop om Gompertz' mening hier weer te geven, zonder eerst te checken of deze al dan niet klopt. Wat ik wel weet, is dat bijna alle theoretische kennis vandaag de dag wel ergens online is te vinden, en dat kinderen op steeds jongere leeftijd met computers leren omgaan. Misschien wordt het daarom tijd om daar ook in onze leerplannen rekening mee te gaan houden.
Zou het niet nuttiger zijn om leerlingen meer praktische vaardigheden mee te geven? Ze dingen te laten oefenen, ze te leren hoe ze creatief en oplossingsgericht kunnen denken? Of zoals Gompertz zelf het zegt: "Zou het kunnen zijn dat een student leert wat deze grote geesten bereikt hebben, maar niet altijd de veel waardevollere les hoe hun dat gelukt is?" Daarnaast stelt hij dat het geen slecht idee is om meer waarde te gaan hechten "nieuw" en "interessant", in plaats van aan "goed" of "fout". Die laatste zijn onlosmakelijk verbonden met "lukken" en "mislukken", wat voornamelijk demotiveert. We moeten streven naar een creatieve economie vol mensen met waardevolle ideeën, mensen die weten hoe ze hun ideeën kunnen omzetten in iets concreets.
11. Een laatste overweging
Het belangrijkste is dat iets je raakt, dat je liefhebt, hoopt, siddert, leeft.
De coronacrisis draagt niet bij tot het mentale welzijn van de mensen. Maar ook voor Covid-19 was er al een probleem. Mensen hebben moeite met zichzelf te uiten. Ze voelen zich niet gehoord. De massacultuur waarin we leven wordt steeds anoniemer, vluchtiger en oppervlakkiger. Daar moet verandering in komen. De scheidingslijn tussen mensen met en zonder creativiteit zou stilaan moeten vervagen. Iedereen heeft de gave om op een verdienstelijke manier creatief te zijn. De vraag naar eerlijke, authentieke producten en diensten groeit. Overal duiken kleine ambachtslieden (meubelmakers, bakkers…) en start-ups op die zichzelf kunnen uiten in hun werk. Veel kunstenaars combineren het risico van een leven als artiest met de zekerheid van een vaste baan. "Evenwichtskunst", noemt Gompertz het.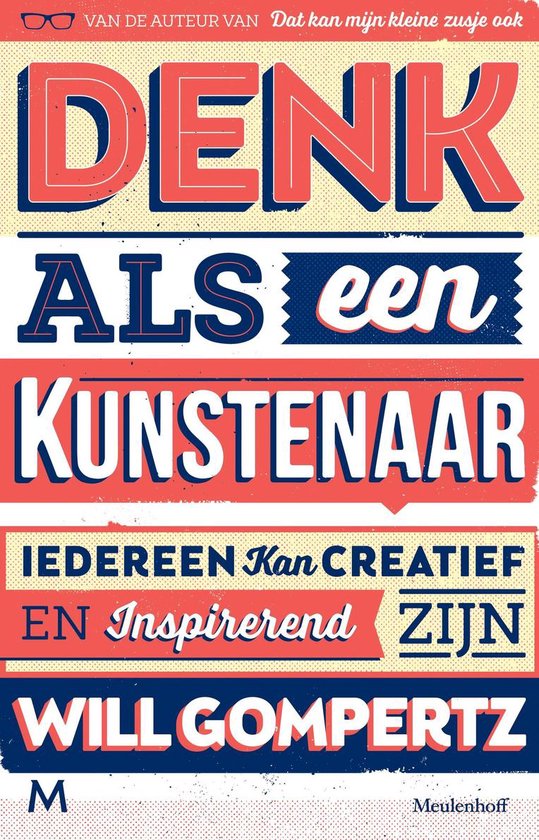 Zowel Dat kan mijn kleine zusje ook als Denk als een kunstenaar zijn te verkrijgen in Standaard Boekhandel.
Wat denk jij? Heeft Will Gompertz gelijk en kan iedereen een kunstenaar zijn? Wat onderscheidt een professioneel artiest van een amateurkunstenaar? Laat het ons weten in de comments!
Lees je graag boeken? Dan vind je onze blogpost met pittig plezante podcasttips over literatuur vast ook interessant! Je vindt hem hier.